In January 2021, International Journal of Extreme Manufacturing (IJEM) is indexed by Ei Compendex.So far, the journal has been included in EI, Scopus, INSPEC, DOAJ and other well-known databases.
The information about IJEM indexed by EI


The search interface of articles published by IJEM in EI database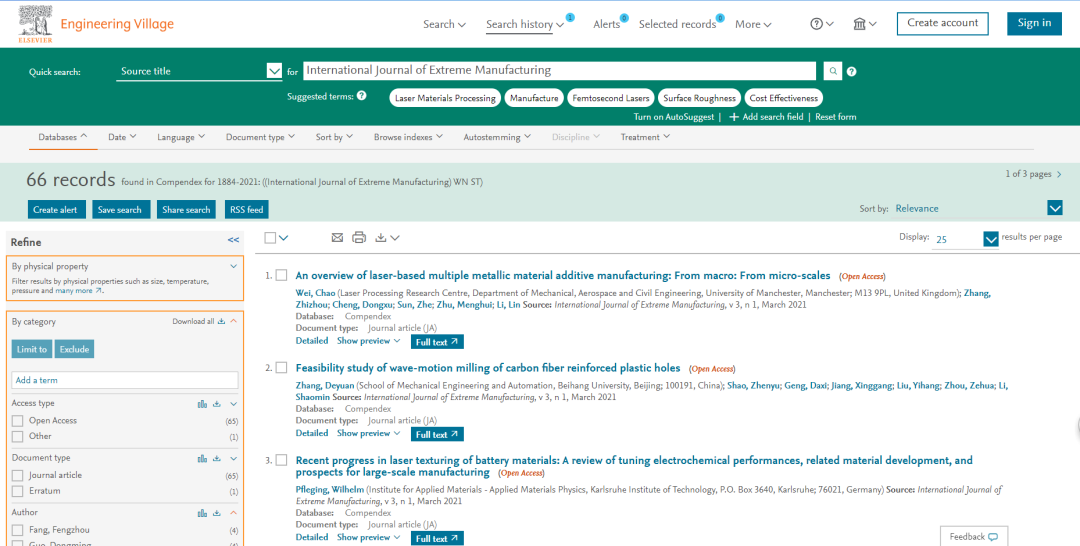 IJEM is a new multidisciplinary journal uniquely covering the areas related to extreme manufacturing, which is sponsored by Institute of Machinery Manufacturing Technology, Dalian University of Technology and Fudan University et al. It is devoted to publish original research of the highest quality and impact in the areas related to extreme manufacturing, ranging from fundamentals to process, metrology, conditions, environments, and system integration. Now it has five main columns: Material interactions with energy beams and fields, Approaches and theories of processing, Metrology and characterization, Equipment and systems and Extreme conditions. It has publised a total of 59 articles in 8 issues since it was founded in 2019 and the articles mainly consist of reviews and papers.